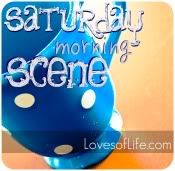 This is what my household is up to this morning.
Up bright & early at 6am.
And yes- we are still in our PJs!
And this was taken with my crappy crackberry so the quality sucks.
Oh- by the way- who in the hell mows their damned grass at 8am?!
Times like these I wish we lived on an acre of land without neighbors!
He is so lucky my babe wasn't sleeping!
We are off to a co-ed baby shower today.
Problem?
My better half is off fishing.
So- hopefully I'm not the only one there without a spouse.
I hope everyone has a wonderful weekend!